Commercial Foundation Repair in Richmond, VA
As a business owner, you want to have a strong and durable foundation for your commercial building. We have proudly restored the structural stability for many commercial buildings across Virginia with our commercial foundation repair solutions.
When it comes to foundation repair, rely on our experts at Stable Foundations.
Driving Quality and Efficiency
We have proudly been owned and operated by J A Walder Inc. for over 25 years to improve our services, drive efficiency, and provide our customers with quality Richmond commercial foundation repair services.
J A Walder, Inc. has been repairing and servicing commercial foundations for buildings, towers, power lines, and any other designed foundations since 1957.
Now together, Stable Foundations and J A Walder offer light commercial foundation repair projects as one construction company that is run by Walder.
We will continue to work on smaller drilled pier foundation projects for commercial buildings throughout Virginia.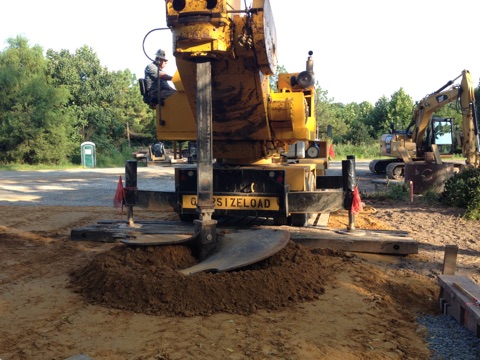 Our Commercial Foundation Work
While residential foundation work is our specialty, we also offer Richmond commercial foundation repair services for several different companies across Virginia.
Our team is well-equipped with the necessary tools and training to take on commercial foundation repair projects in many different industries.
Our commercial projects include:
Cell tower foundations
Build shoring
Soilnailing
Helical pile foundations
Roller Coaster Foundations
Power Line Foundations
Skyscraper Foundations
Bridge Foundations
The diversity of our commercial work qualifies our team to take on any challenge, no matter what type of business you own.
Commercial Foundation Solutions from Stable
We proudly offer our Richmond commercial foundation repair customers a number of different foundation solutions, including helical and drilled piers. Each product we use has been researched and tested for its strength and durability to ensure we are installing quality foundation repair products.
Helical Piers
At Stable Foundations, we use the CHANCE® helical pier system provided by our trusted partner, Hubbell Power Systems, Inc. We have proudly been a long-time partner of Hubbell because they are known for their superior products and lifetime durability.
CHANCE® Helical Pier Installation Process
It is a segmented, deep foundation system with helical bearing plates welded to a central shaft. The load is transferred from the shaft to the soil through these bearing plates.
As a result of their true helical shape, they screw into the soil with minimal disturbance. The first section, called the Lead Section, contains the helical plates. The Lead Section can consist of one to four helices.
If required, additional helices can be added with the use of Helical Extensions. Plain Extensions are then added until the Lead Section penetrates the bearing strata and the necessary or appropriate torque is achieved.
Drilled Piers
Our team of Richmond commercial foundation repair specialists use drilled piers for foundation repair that involves cell tower foundations and smaller foundation projects.
Drilled Pier Installation Process
We start by attaching an auger to a drill machine. The auger is then rotated into the ground while removing dirt spoils.
Once the diameter and hole depth reaches the required size, steel cages are set in place. Finally, concrete is poured around the steel to the top of the piers specified grade elevation.
Design Build Earth Retention
Our design build earth retention is primarily used for earth shoring projects. We use Hubbell System Inc.'s "Soil Screw' system, which includes a drilled pile and lagging with Hubbell System Inc.'s tiebacks.
Design Build Earth Retention Process
We work with local general contractors while reviewing the civil and structural plans, as well as the geotechnical reports, to come up with a structural wall to support the below-ground earth pressure. Once installed, workers can safely work in below-ground elevations.
Why choose Stable Foundations for Commercial Foundation Repair
We are a third-generation shoring contractor and have proudly helped commercial customers across Virginia since 1957.
Our diverse work in the commercial industry, including skyscraper foundations, rollercoaster foundations, overhead power line foundations, cell tower foundations, and more, qualifies our team to take on any commercial project.
Contact Stable Foundations for all your Richmond commercial foundation repair needs. Contact us today to schedule your free inspection!