Crawl Space Encapsulation in Richmond, VA
Crawl spaces are often left ignored, as many homeowners do not realize the importance of crawl space maintenance. This neglect often leads to crawl space water damage, including mold, dry rot, and increased energy bills due to high humidity. Richmond crawl space encapsulation and vapor barrier installation are services we offer to help homeowners maintain the health of their crawl space. It provides a permanent solution involving as little maintenance and upkeep as possible through the use of things like dehumidifiers and expertly installed vapor barriers.
At Stable Foundations, our experts can encapsulate your crawl space to give you peace of mind. Contact us today for your free consultation!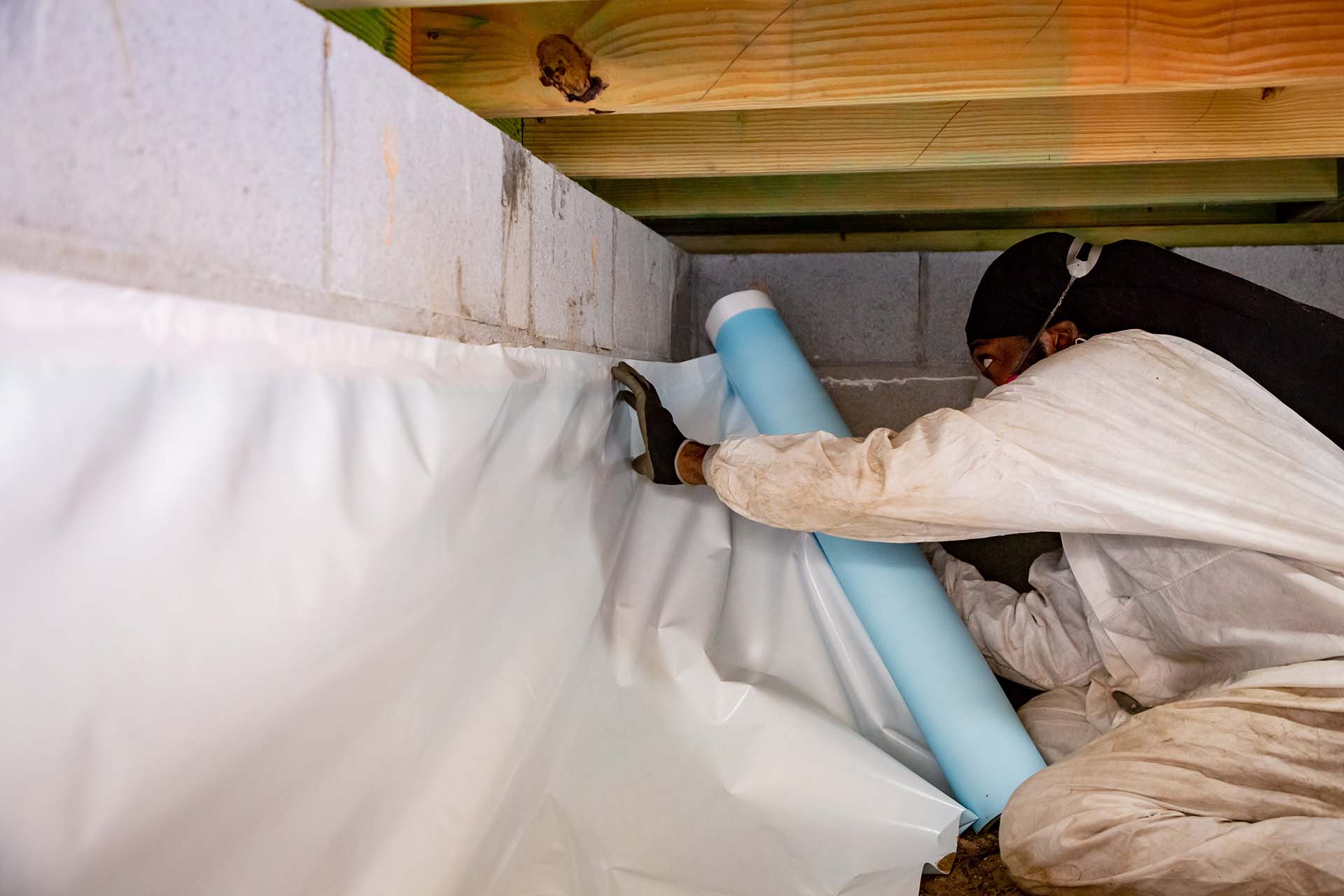 What is crawl space encapsulation?
Encapsulation is the process of completely waterproofing your crawl space. It involves the use of several different waterproofing and moisture control solutions, including insulation, vapor barrier installation, and either an HVAC duct boot or a dehumidifier. These systems work together to completely seal out water and moisture, preventing crawl space flooding and high crawl space humidity. Both flooding and humidity can cause numerous problems for the safety and structural integrity of your home.
What is a vapor barrier?
A vapor barrier, also called a moisture barrier, is any material that is used to waterproof or damp-proof a building. Most often it is a plastic sheet used to resist water infiltration through walls, floors, ceilings, and roofs. We use the highest quality vapor barriers available on the market.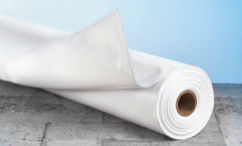 Why Encapsulate Your Crawl Space?
Richmond crawl space encapsulation is one of the best ways to maintain a healthy crawl space with very low maintenance for you as a homeowner. Once your crawl space is encapsulated, you no longer have to worry about potential water or structural damage to your home. Our moisture barriers, dehumidifiers, insulation, and other encapsulation methods guarantee that your crawl space stays dry.
Symptoms of Crawl Space Damage
Crawl spaces are susceptible to damage based on their design. The lack of airflow and dark, damp space can create many problems that no homeowner wants to encounter. Even crawl spaces that don't have dirt or gravel floors are penetrated by water that is in the soil beneath the flooring.
Mold growth

 
Musty odors

 
Weak floor joists due to dry rot
Pest infestation
Increased energy bills due to high humidity
Sinking floors above the crawl space
Crawl space flooding
Crawl space encapsulation is a quick and easy way to avoid these problems from occurring. It creates a dry, healthy environment that helps you avoid unwanted issues.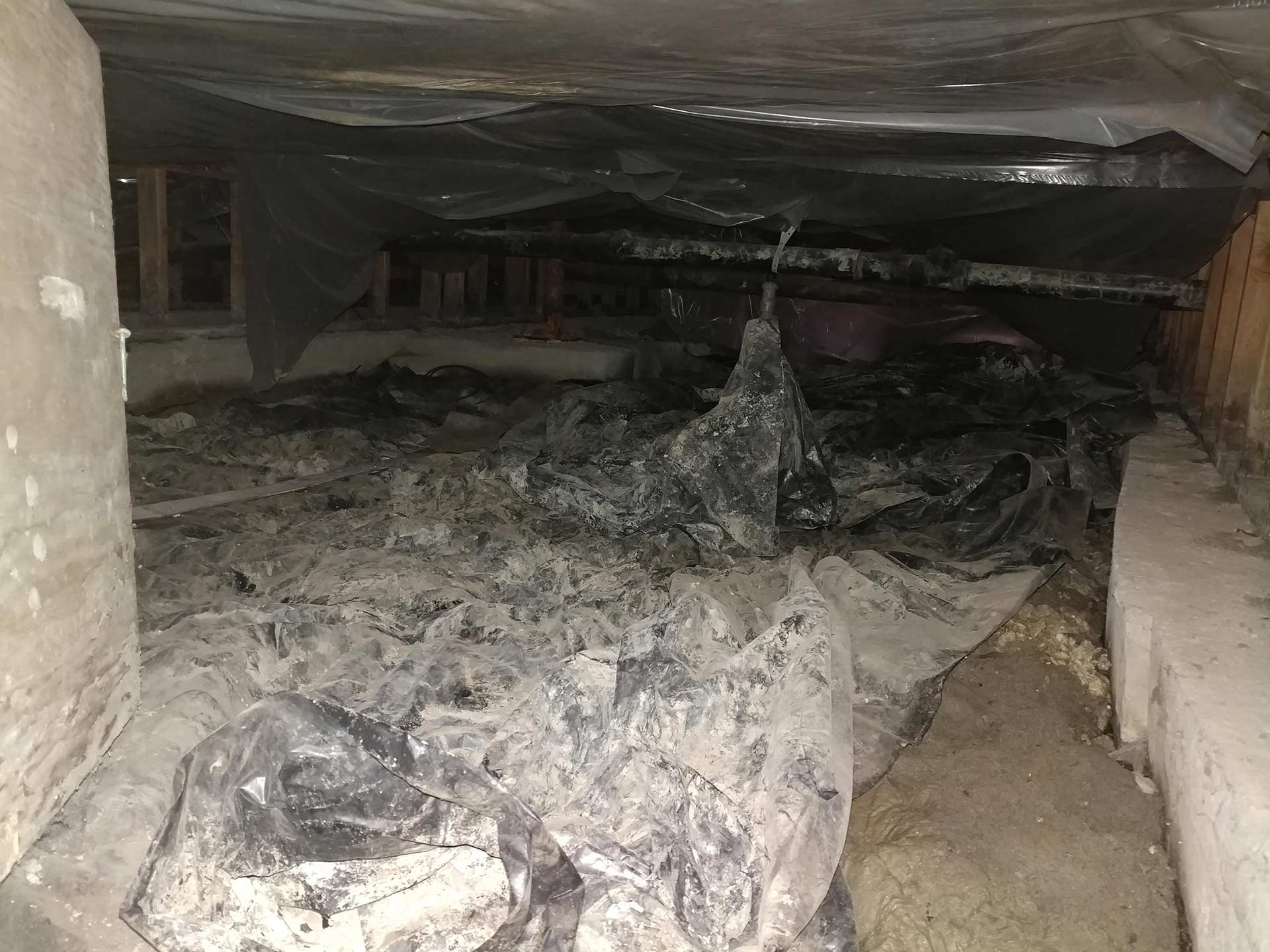 Benefits of Encapsulating Your Crawl Space
Owning a home has enough responsibilities. Maintaining your crawl space doesn't have to be one of them, and encapsulation is an easy way to keep your crawl space maintained without the work. It keeps your crawl space clean and dry, so you don't have to worry about it.
Crawl space encapsulation benefits include:
Avoid mold growth and pest infestation
Control energy bills
Gain valuable storage space
Improve indoor air quality
Prevent structural damage and costly repairs
Encapsulating your crawl space is one of the best investments you can do for your home. Our team of Richmond crawl space encapsulation and vapor barrier installation professionals is happy to come out and provide a free inspection of your crawl space.
Our Crawl Space Encapsulation Process
To properly encapsulate a crawl space, there are necessary steps that must be taken. Our installation experts have perfected this process over the last 25 years to provide the best possible results.
We start by removing the existing floor insulation that is under the subflooring inside the crawl space.
We eliminate any mold and termite nests with our mold abatement and pesticide spray.
We insulate the crawl space walls, vents, & rim joists with Greenguard R10 2" foam board around the perimeter. We also seal any foreseen voids with foam spray, sealing your crawl space tight.
After the crawl space area is insulated, we wrap the crawl space floor, piers, & walls with a 16mil vapor barrier. We use the strongest vapor barrier on the market. Standard building code calls for 6mil and we use 16mil to ensure your crawl space is equipped with a moisture barrier that will last.
We install an Aprilaire dehumidifier system with condensation pump. We can even install a digital control for the Aprilaire unit so you can adjust the unit anytime you would like.
The last step is for you to sit back and relax, Stable Foundations has encapsulated your crawl space to ensure it's clean. No more wood rot, mold growth, or pests living under your home.
At Stable Foundations, we use Your Crawl Space Products made in the USA combined with superior Aprilaire dehumidifiers. Our team works quickly so your crawl space is encapsulated in as little as 3-5 days.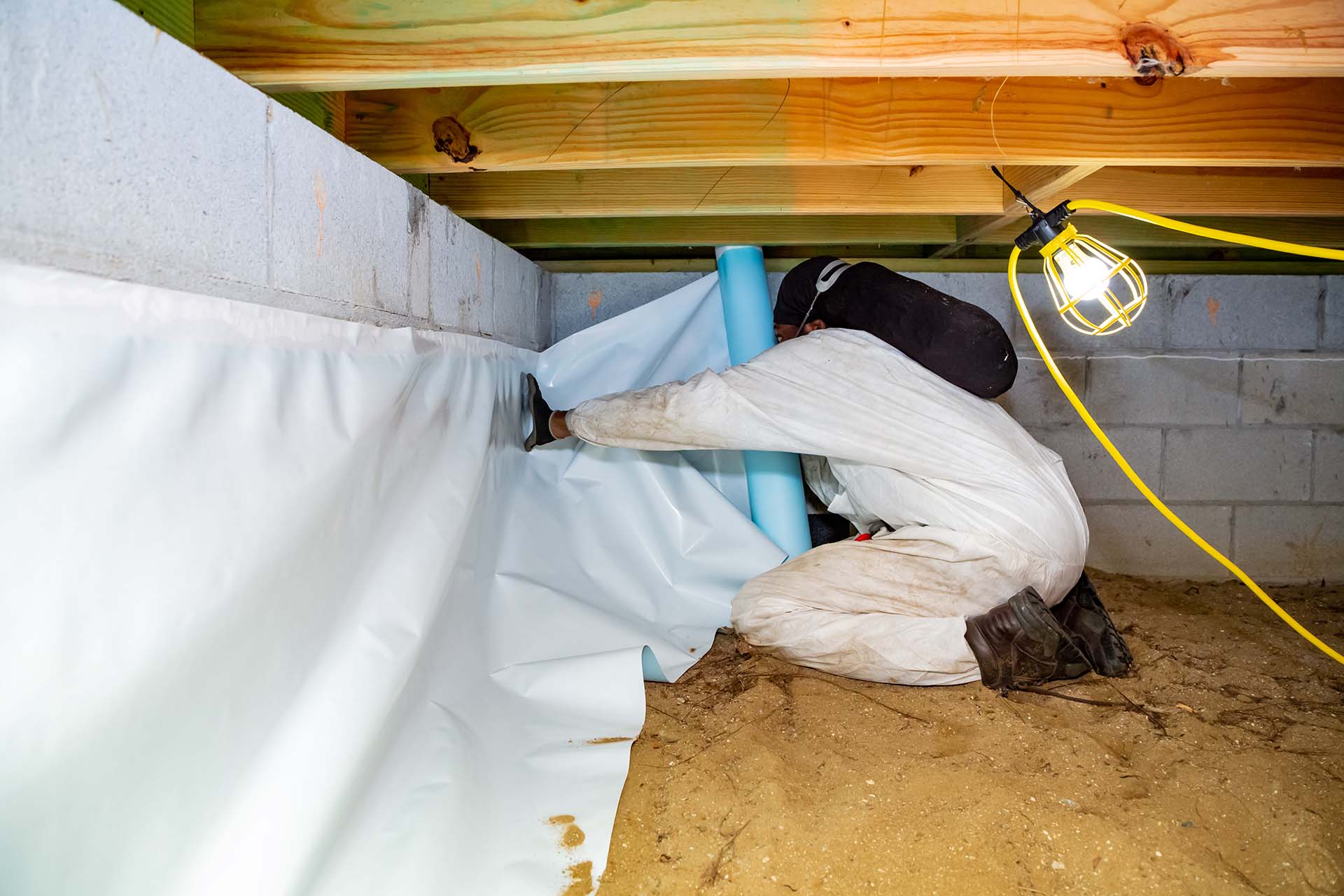 Why Choose Stable Foundations for Crawl Space Encapsulation
The combination of our detailed process, our 16mil vapor barrier, and our other high-quality products ensures that your crawl space will be permanently protected. Many homeowners have trusted us with their crawl space encapsulation throughout Virginia for over 25 years. For three generations, our family-owned company has refined and perfected our processes to provide the best possible solutions for our customers.
Contact Stable Foundations for all your Richmond crawl space encapsulation and vapor barrier installation needs. Contact us today to schedule your free inspection!