Commercial Design-Build Earth Retention Systems in Richmond
Expansive soils, sinkholes, sloppy construction, subsidence from changing subsurface and groundwater conditions—any of a number of issues could compromise the integrity of your foundation and the structural stability of your commercial or industrial space.
Stable Foundations is the only foundation company you want to trust with the crucial task of shoring up your structure. It takes heavy-duty muscle and sweat, meticulous fine detail, and a thorough knowledge of foundations and geological processes that nearly borders on rocket science. Our team of Richmond earth retention system experts has everything it takes to guarantee superior workmanship on your earth retention project.
We use only the finest and best designed products for our earth retention system projects in Richmond and the surrounding area, because nothing less will ensure the long-term stability of your building. Every product we use is strength-tested and manufactured for maximum performance, which is why we depend on the durability and torsional strength of the Soil Screw system (which includes lagging and a drilled pile) and the tiebacks of Hubbell Power Systems, Inc.
From soil testing and geotechnical investigation and reporting to the analysis of potential slope movement and stability, the expert shoring contractors in Richmond at Stable Foundations team up with local general contractors to review the civil and structural plans and geotechnical reports to design an earth retention system specific to your property and structure that will endure the effects of time.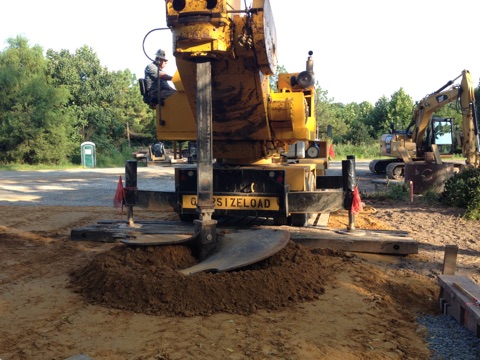 Stable Foundations is the Richmond shoring contractor you want to preserve the integrity and stability of your commercial structures. Our team and our expert partners have the technical know-how, skill, and innovation to keep your commercial structures on solid footing. You won't find another foundation company in Richmond with our design-build earth retention expertise. We've been committed to superior customer service and satisfaction since 1992, and we're ready to put those years of experience to work for you. Reach out today and schedule your free consultation for earth retention services on your Richmond commercial property.